CRUSH Organic Leads/Visits with Google Trends
Crush the Market with Organic Traffic & Leads with Google Trends
Organic Traffic with Google Trends will drastically help your website gain organic traffic & leads more surprisingly than you think! In this blog post I will explain how you as a business owner can use Google Trends to your advantage and create awesome content for your industry.
Estimated reading time: 10 minutes
Google Trends is completely free to use!
Using Google Trends is completely free to use to get started on any subject you want. I will be giving you some examples below on how I would tackle an upcoming opportunity. Most people would use proprietary software or services which can be very costly but you don't even need to use them if you know how to properly use google trend.
Master it and gain organic traffic like a BEAST
It's not rocket science! The user interface for google trends is very simple and does what it needs to do. Just search for the content you are trying to create content for. Play around and see how your website does after you have set up Google Search Console and Google Analytics to track the progress of your site. I will be writing a guide on how you can use these things together and explain them in full details in the near future so keep an eye out!
What can you do to stand out vs others?
It is key to make your content unique! Google does not like to see multiple pages that are basically repeating the same content. What can you do to make your site stand out? Too many pages are being TOO OPTIMITZED for Search Engine Results instead of the real readers which are affecting their overall rankings. Google pays attention to this and notices it. You need to keep your content fresh and engaging. If you look like a bot google will most likely flag your page! That is not something you want happening to your site.
---
How I would use Google Trends to gain Organic Traffic & Leads
I will be showing you how I would use Google Trends to Gain Organic Traffic relating to HVAC hence its the Trade I am in and the name of my website.
Picking a search term
Since I am in the HVAC industry I will just use a basic search term of "HVAC". From here you can narrow down your research into 4 different sections. For this example I will be focusing in California for the past 7 days for just web searches.
Narrowing down to region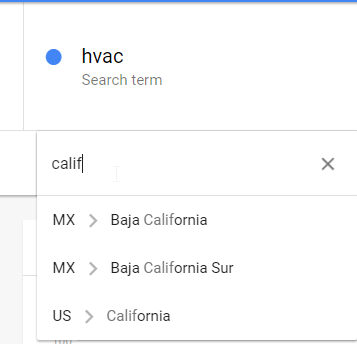 For this example I will focus down to California because I am wanting to just target my content for this specific region. In most cases you will want to target a larger audience but if you are focused in a industry that is targeted towards being local you can sort it down to your region.
Custom Time Range

You can set your time range to be very specific on what you are trying to research on but if I am going for organic traffic I tend to focus on what is currently trending and try to tap into that certain topic. You can adjust this to however you see fit.
Category
Category type is very basic you can choose what you want this to be but in my case I will just be going with all categories. It has no relevance for me at this time but eventually once I start working on other content I would use this feature a whole lot more.
Search Type
This feature is truly underrated in my opinion and gets overlooked a lot. You are given options to choose from Web Search, News Search, Google Shopping, and Youtube Search. These things can play key roles on what type of niche you are going for. If I was running an online e-commerce store I would use all of these features to see what is hot and tap into them. For this section I will only be focusing on web search at the moment.
Using metric data to learn about your search term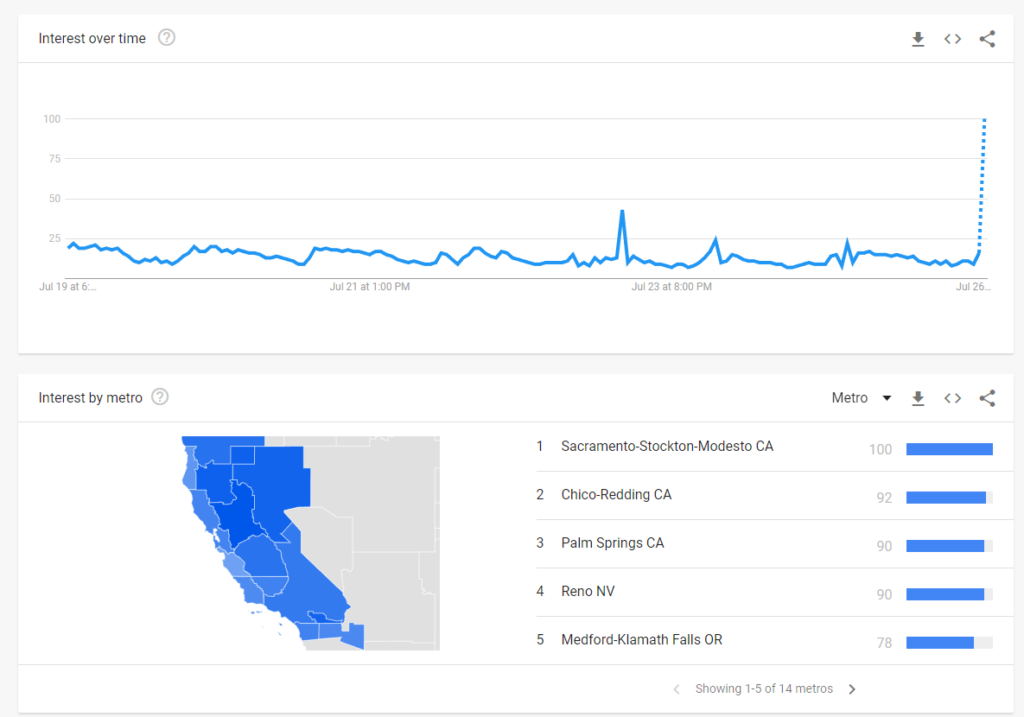 If you are tacking to get search results in your local cities you can click on that area and you will find what people are searching relating to your search term and its volume! This is like a goldmine!!! I would tap into this and look at what people in Califonia are looking for when searching relating to HVAC.
Related Topics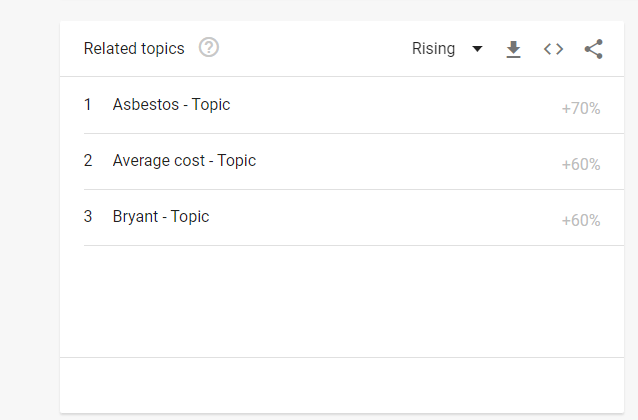 With related topics I would click on the drop down and pick rising topics. This helps me figure out 2 things. What they are looking for and how much is it trending.
In this scenario I see that Asbestos is becoming a rising trend so I would focus on making an Article about Asbestos and how to find out if you have it in your home and how to deal with it.
Seems like average cost is becoming popular across any topic so if you can create a page compiling the average cost of certain services & products you become a source for anyone wanting to know about installs & services fees for my industry as an example. This actually will help you more than you think! I will get into that in another article.
Bryant seems like to be a brand that is popping in search results for California. I personally have never messed with this brand but you can create a post giving reviews about this brand and be very detailed about what type of unit they would need for their home etc. This can lead to possible install leads!
Related Queries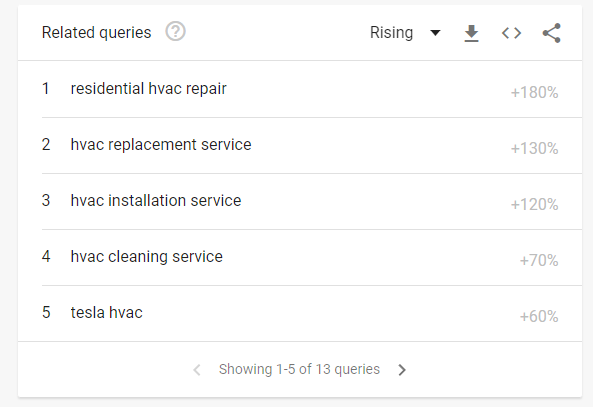 I would like use this section as my "bread and butter" as these will be keywords you want to target. You will most likely see a lot of results from this section but I usually would stick with page 1 and 2 and try to tack out as many content for those keywords.
This will drastically boost your organic traffic to your site if you structure it out right.
---
Get your SEO on POINT!
Congratulations you just did research for your term! Now you want to tackle into SEO (Search Engine Optimization) for the related keyterms. I have seen it all and honestly as a business owner if you have the time to learn this. DO IT! it will become rewarding. I will explain a few things that are vital to getting your content ranked within google.
Google Algorithm
Those who don't keep up to date with Google's Algorithm are going to be behind! Keep yourself up to date on how they are searching and indexing sites. Before it was all about keywords and backlinks. Although, backlinks are still vital most people end up shooting themselves in the foot with this one. Google's bot is now searching for multiple things which I will be listing below.
Did you know your Backlinks are negatively affecting you?
Backlinks still play a vital role to your site if you are trying to gain organic traffic. Once you start creating content you want to try and find relatable content creators or businesses relating to your subject to read your article and possible source you. This helps you by telling Google that you are a reputable source for this term and it will help boost you up to the top page. Don't try to just get random backlinks…this will negatively affect you which I will explain more below.
Is your content unique?
Your content needs to stand out compared to your competitors and be genuine. Google bot indexes many sites and can tell the difference if you are just blatantly copying another site or just keyword stuffing. This used to be a common strategy back in the days but Google has gotten smarter about things. AVOID using STOCK images! Although not going to impact you a lot, your images should be unique only to your site and this applies to everything. You need to stand out.
Never keyword stuff!
One thing you do not want to do is stuff your page with a bunch of keywords you are trying to hit at. Google knows this and will just index you as spam or possibly blacklist you. They care more about what your main keyword and how relevant your content is around that keyword.
Don't segment your content into Multiple Pages!
Sadly I see this a lot in my line of work. Creating a page about a topic should be full of information but once you try to segment them into other articles and link them in conjunction together you just make your sitemap look like a bunch of spam. Having one single page about said topic with as much details is a whole lot better vs 5 pages about said topic. I see this as a common tactic in the SEO game and I am honestly against it. I done my research and coming from Google Developers and TOP SEO experts all agree keeping one page to hold all your content for that keywords is vital to ranking vs segmentation.
Did you pay to have your company backlinked on directory sites? Got some bad news for you
One nasty thing I have noticed as of lately is certain sites ranking top for a said keyword is offering to backlink you to their site in hopes of you getting organic traffic but Google has confirmed this is BAD FOR YOU! Most paid services/directory sites to link you will negatively impact your score.
I don't meant to throw some agencies under the buss but I notice they just throw random backlinks to sites and boasting they are giving them backlinks when these links relate nothing to the said industry. Google has become a lot smarter at detecting these and voiced it multiple times. Be careful what you link back to your site or Google will blacklist you!
Organic Traffic with Google Trends converts to Leads & Sales
With the content I provided here you can use multiple means to funnel clients into your services or products. There are other factors you want to lookin into like on page seo etc but this is just the general guide on how to use Google Trends to get a head start in the game. I hope you enjoyed reading my mini guide. I enjoy teaching others and will always do my best. If you are a business owner and use this to your advantage just expect to see great results.
If you are interested in SEO Services or Website Design/Copywriting from us feel free to contact me.