Automated Facebook Lead & Follow-up Process with GoHighLevel, Zapier, & SERA
Ever wondered how you can collect your Facebook leads and follow up with those leads? I will show you how you can build this out yourself and start running some crazy campaigns!
What you will learn after reading this guide
Facebook Ads

You will learn the basics to starting your own facebook campaign and how easy it is to run yourself!  I will explain how you can grab your leads via Facebook Forms, Facebook Messages, or offsite Form generators like Typeform

GoHighLevel Pipelines & Workflows

Get familiar with GoHighLevel and setting up your own pipeline for this campaign as well as marketing automations for workflows!

Zapier

Become a JEDI with zapier and the possibilities you can create for your lead generations and follow-ups!

SERA Systems Automation

By the end of this guide you will understand how SERA Automations can play a big role in the customer journey after the lead submission!
Too lazy? If I am free I can help you create this workflow if I have the time =D
Understanding the Process
In short what we will be doing is creating a Facebook Ad for whatever it is you are wanting post for your campaign. Our example will be about Unit Estimates for HVAC systems. If you follow along with this you should be able to redesign this to your liking!
Create Typeform or Leadform
You can make your lead generation very simple with just a call, text, or message us via Facebook. We will be using a more complicated version to get more information about our leads by using Typeform.
Go High Level Automations & Pipelines
Once Zapier pushes the information into Go High Level pipeline stage we can trigger internal and external notifications to your liking. 
We will inform our staff of the leads coming in. From this point our Sales team will reach out to the leads and move them along the pipeline until they are scheduled.
There will be retargeting triggers to and leads that were dropped for follow-up.
Once the lead generation is gathered from the source of your choice we can use Zapier to push out that information out to GoHighLevel. This is where the fun starts!
If the right conditions are met and our customer accepts, the Accepted Quote trigger we will send them a thank you message and follow up on their customer journey to satisfaction.
Creating your ad is going to take some time but make sure you have the right words and focus on engaging Headlines. Your Ads don't need to be super complicated. I will show my setup I created just for this so you guys can follow along.
Manage your Campaigns:  https://adsmanager.facebook.com/adsmanager/manage/campaigns
Your first step is to create your very first campaign! lets get started with making your Ad.
Choosing your campaign objective:
There are multiple options you can choose for your campaign. We will just be using Traffic for website visits. There are much simpler ways to get these leads into GoHighLevel that doesn't require Typeform or Zapier. In our case we do because we want to gather more information about our leads. That is something you want to think about.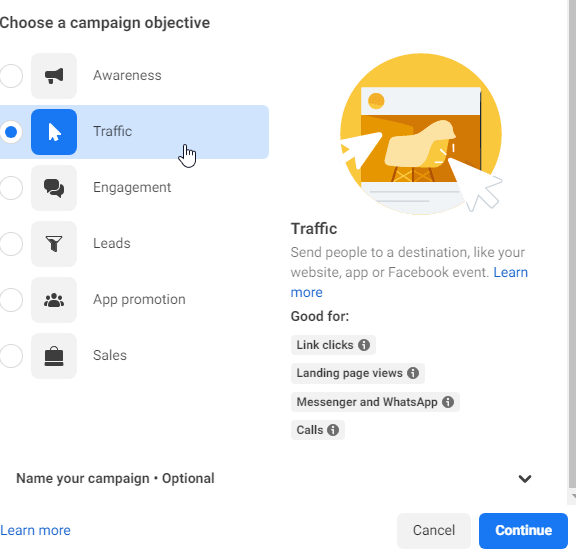 Custom Audiences
If you plan to target a specific demographic this tool is super useful but for the sake of explaining things we will leave this alone for this guide.
Locations:
If you are a Local company then you want to MAKE SURE that you are targeting your leads to locals only!
I have seen where many people mess up here...even agencies.
Placements:
For this step we are wanting to go with Advantage+ Placements. If you are a expert then you can go with Manual
Now comes the Fun part! Making your Ad Creative =D
Make sure to upload your images and have the optimized so they don't look odd.
Primary Text:
This is where your AD Creative skills come in hand. I am not an expert but you can copy what I have listed here.
🏡 Wondering Which HVAC Unit Your Home Needs? 🏡

Don't get lost in options and technicalities! We've got you covered!

Unveil our speedy HVAC System Finder:
🌟 Simplified - Navigates you through the choices
🌟 Customized - Accurately sizes the perfect unit for your home
🌟 Variety - Showcases Good, Better, Best options to suit your needs

Find your ideal HVAC system in a flash, with no fuss!

Start here: [your link here]

For peace of mind, our certified HVAC technician will ensure the selected unit matches your home's requirements with a final inspection.

📞 Need assistance? Ring us at [your number here], we're here to help!

CONTRACTORS LICENSE CSLB [your contractor license]

Make your home's comfort effortless! 🌬️🔥
Headline and Descriptions:
This is where you need to focus on engaging hooks to get them wanting to click on your ad! Here is an example of mine.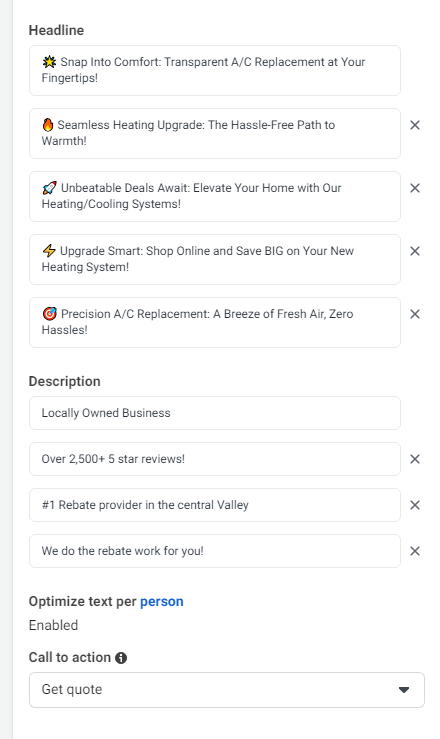 Submitting your Ad:
Once you have your ad creative all set up it is as simple as publishing your ad. Now our next step is setting up Typeform so we can get more information about our lead.
Create Typeform or Leadform
Creating your ad is going to take some time but make sure you have the right words and focus on engaging Headlines. Your Ads don't need to be super complicated. I will show my setup I created just for this so you guys can follow along. Typeform is pretty basic its a form generator that you create to capture information about what you want to collect. What I am looking to collect with our leads will be listed below:
What type of home do they live in
What kind of unit are they looking for
What is the square footage of their home
If they have zones currently (How many)
Zip Code
Name
Phone Number
Urgency
Here is a sample of what it looks like!
***Remember you don't need to go as extensive as I did. We only did typeform because we wanted more information. If you only need name and phone number you can simply just do facebook messaging and you can skip this whole step***
Once you have your form created you will be linking it into your Facebook Ad as the website click. Once you have this set now we can go into my favorite part! GoHighLevel!!!
Go High Level Automations & Pipelines
Now this is honestly the fun part of me. For all of this to work we need to set up a pipeline for the Facebook leads into GoHighLevel. We will be creating stages in the pipeline to create steps for our team to move those leads where they need to be!
If you do not have a GoHighLevel account you can sign up with my referral link if you want to help support my content.
I will also help you build everything you need for this and more if you sign up as a referral!
Referral Link: https://www.gohighlevel.com/?fp_ref=hvactrade10
Setting up the Pipeline:
The pipeline will be the 1st step of the stage to nuturing our leads! Lets get to it and show you what we will be doing with our leads.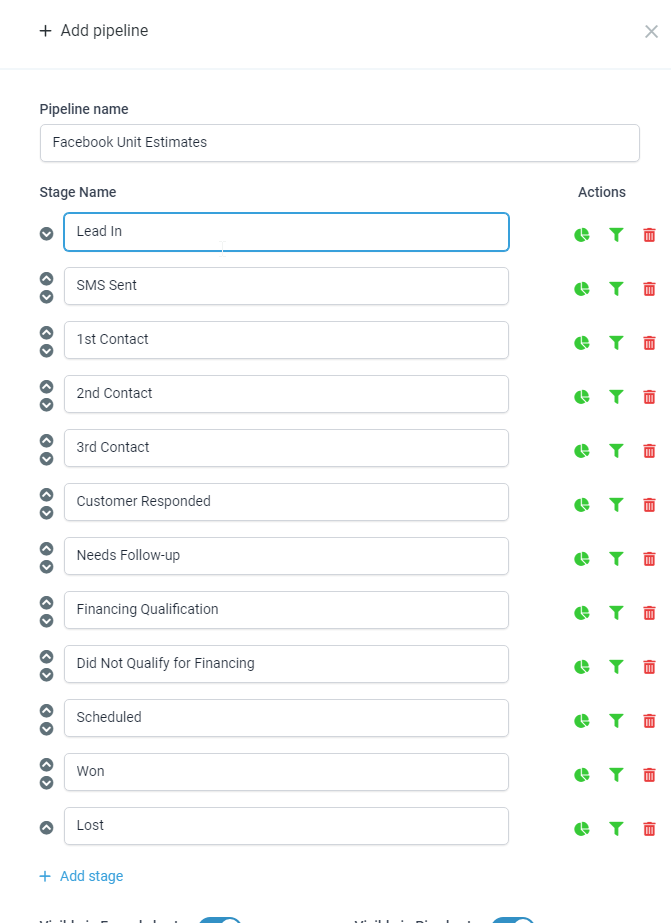 Lead In - The lead submitted is dropped into this stage of the pipeline. There will be multiple triggers happening here where we notify our team and also sending the customer a notification we got their submission.
SMS Sent - Once the stage above is sent the contacts will be moved here notifying us internally that we need to reach out to the lead.
1st Contact - This would be our first attempt to reach out to the potential lead
2nd Contact - If we did not reach this person we would try for another attempt
3rd Contact - If the other two does not lead to a response we will keep them in this stage. If still no point of contact we will trigger another retargeting automation.
Customer Responded - If a customer had responded to our text message they will automatically be moved here for our team to manually review. If the response was negative we will create a trigger that moves the customer to lost.
Needs Follow-up - At this step we had already contacted them and we needed to follow up with them on a certain date or any kind of circumstance.
Financing Qualification - These are people who are ready to move forward and need to be screened for if they qualify for Financing. If they do then we schedule the appointment and move customer to scheduled.
Did Not Qualify for Financing - If the lead did not qualify for financing our team will be notified and we can check if we can salvage the lead into a repair opportunity. Once dropped into this stage they are automatically moved over to another pipeline we have for this certain case.
Scheduled - If all goes well and customer appointment is scheduled. We leave them here until the job is completed for our trigger. We would move them to Won and automate a customer journey survey to our customer and thank them for using our service.
Won - Job completed and trigger our customer journey automation.
Lost - Customer was a lost lead or no longer interested. We can either leave them here or remove them after x amount of days.
This pretty much explains the pipeline and how it works. Now we can get into building the automation triggers for these steps. For the most part it will be manual work when moving people across stages but we do have trigger states.
Creating The Workflow Automations
Once the leads are in we now need to make a workflow for this in GoHighLevel to Automate the tedious stuff so we can maximize our efficiency!
NOTE: Once you have the pipeline and triggers all set you can see responses on the Conversations tab in the dashboard
Now lets make a Folder for this pipeline!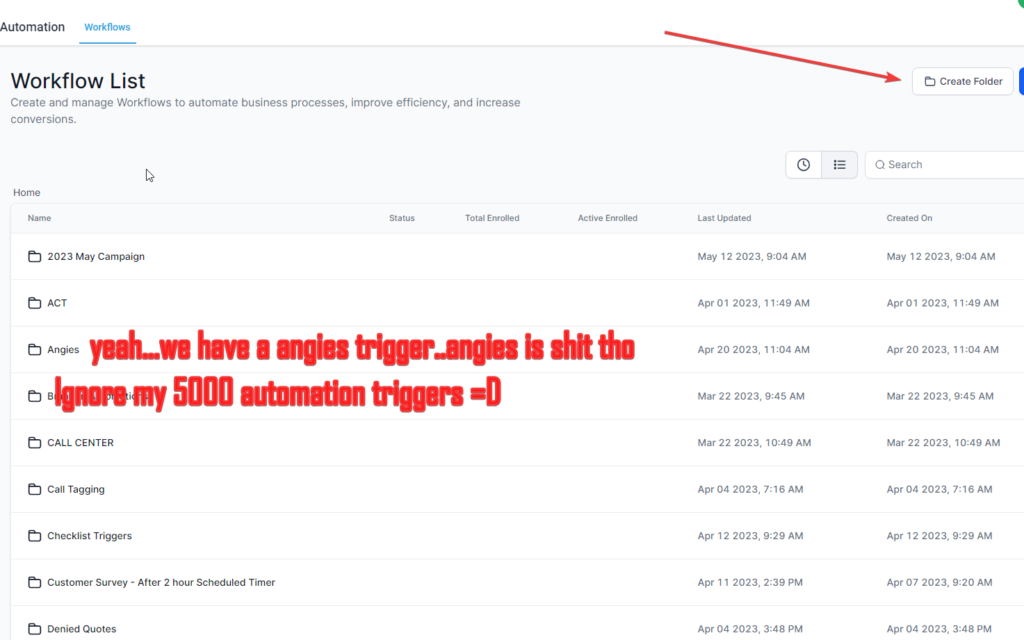 Now that we have our new folder created we can start with our new workflow!

You will be given a lot of options to choose from but we will be going with start from scratch because I am a God like that. Never use templates. Learn how to create these things yourself!
We will basically be creating the workflow I mentioned above for triggers etc.
Here is the preview of the lead in workflow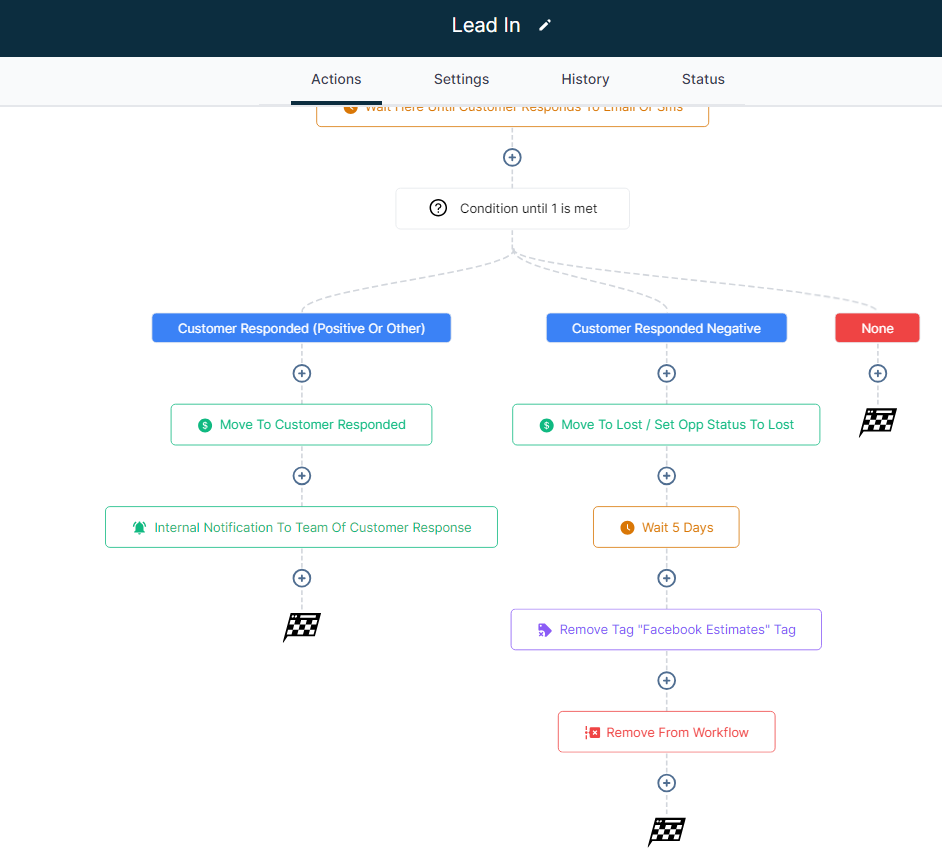 Pretty cool right!!!
Here is a snippet of some of the functions inside
Action Name: Send Customer SMS confirming we got their request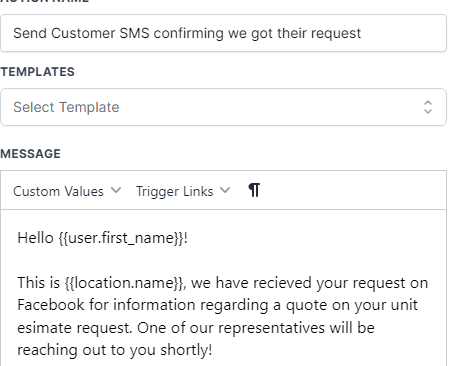 Action Name: Internal Notification to Sales Team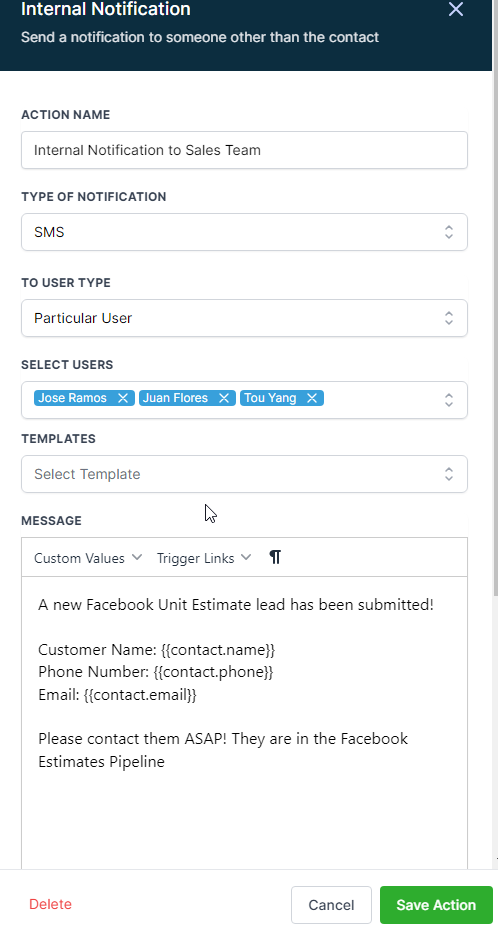 For the most part everything here is very simple. Just make sure to turn your Workflow from Draft to Finished to have the automations start rolling.
From this point I will be creating a internal automations for transferring leads to different pipelines based on criteria (did not qualify) that won't be needed for you guys as it is something we do on our end. If you would like to do it. It is very simply.
Once contact enter stage > Trigger to move to another Pipeline>Stage
Now comes the part where we link everything together with Zapier for automations to start happening.
Create a new folder on Zapier for this. You want to be organized!!!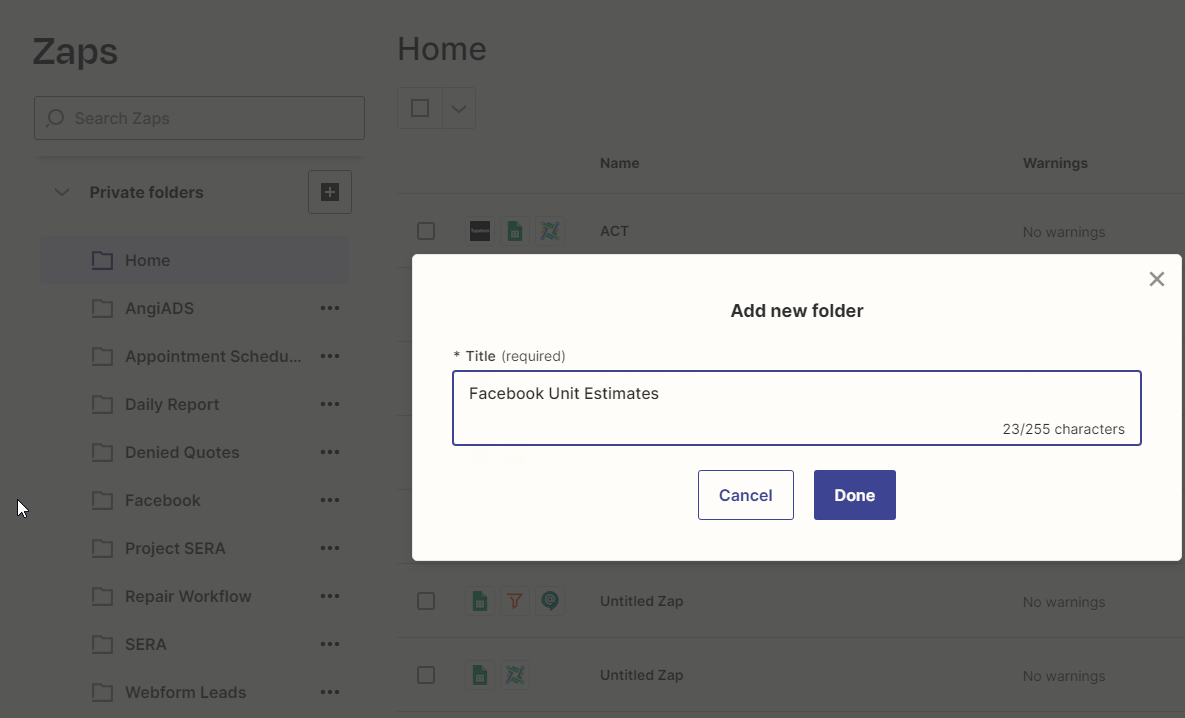 The next part is pretty simple you want to link your Typeform account into Zapier by creating a new ZAP.
Once you link your Typeform Account you simply add the next step which is connect with LeadConnector which is GoHighLevel.
You only need to input Name, Email, Number realistically because you can view the form submission in Typeform.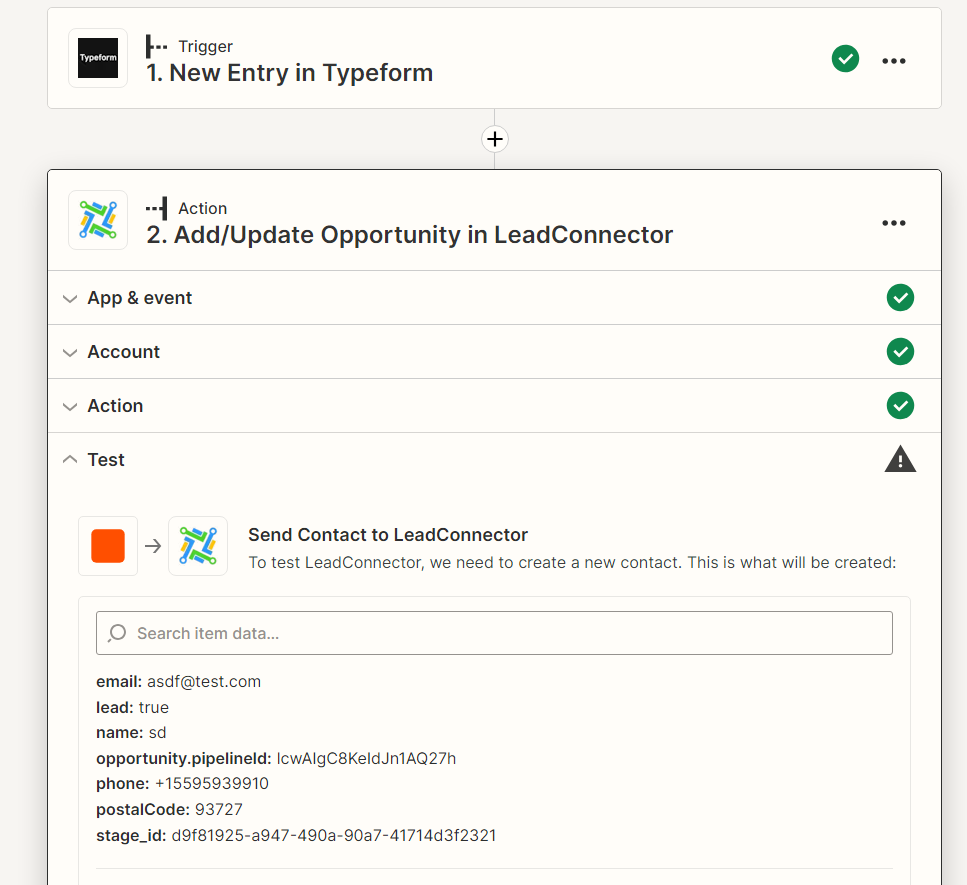 Make sure to put the right information needed and moving the contact into the right pipeline and pipeline stage for this to work!
That's it! you are ready to go live!
Hopefully by now you understand how the trigger works. This works the same way but we will use Zapier to trigger a Event.
This would simply be a workflow automation thanking the customer when they accept the invoice. It is completely optional. I don't recommend it because already will be doing a trigger when the job is completed.
Example Cases for SERA Triggers
Quote Accepted:
Thank customer for accepting the quote and we will contact them shortly to schedule the install date and providing a 5-star service.
Appointment Trip Started:
Notify the customer which team is going out and what time to expect them. Also link them to the portal to track where our team members are.
Give a little profile description of who the team members are that are coming out.
After the job is completed, one of our team members will move the customer to WON in our pipeline which will trigger a event to send to our customers.
I will create a customer journey automation on a separate post as it will need its own =D
How was your initial experience with us?
Who was the sales member you spoke with?
How was the quality of the conversation you had with them?
Who were the team members who came out to the install?
How was the service you were provided by our installers?
Did our installs clean up any mess left behind during the installation?
How was the overall experience you had with our company?
What did you like most about us?
It seems like a lot but most part is all net promoter score so we can track how our team is doing. We have conditional logics set that when overall the experience is great we would ask if they would leave us a review on google. We would link our google review with the keyword tags for HVAC Installation so the review would autotag to that keyword when submitted.
IF the review was bad, there would be one more question that pops up asking the customer what we did wrong and how we can improve. After this step it would send a message to the Management team so we can solve the situation immediately.
This helps us mediate a bad review from showing up on Google if we gave them the option to vent internally.
If the situation were to ever escalate further,  our boss man get involved and he is a beast at customer satisfactions!
If you made it this far I want to thank you for reading my guides. It takes a lot of time to make. I will always create free content to help educate those who are willing to learn. I know there are owners out there who don't have the time. If you need my assistance you can always ask me.
I have many more projects to create and share with the contracting world. Its going to be disruptive and may cause agencies to hate me but I feel the need to show the world lol. Anywho thank you for supporting me and reading my content. IF you ever need to reach out to me, you can find me on Facebook!
https://www.facebook.com/TrailsoftheNine
Future Projects in mind
Tiktok Lead Generation with GoHighLevel
How to set up your own GoHighLevel Account pipelines/automations scaled to your business needs
Using GHL for Outbound and Inbound call center
Marketing Automation Reports with SERA and Zapier(How to create crazy dashboards withing sheets or Looker Studio)
Many more! (I am open to suggestions)
Please share my post if you like my content! I love to network with other business owners or entrepreneurs (not gurus =)