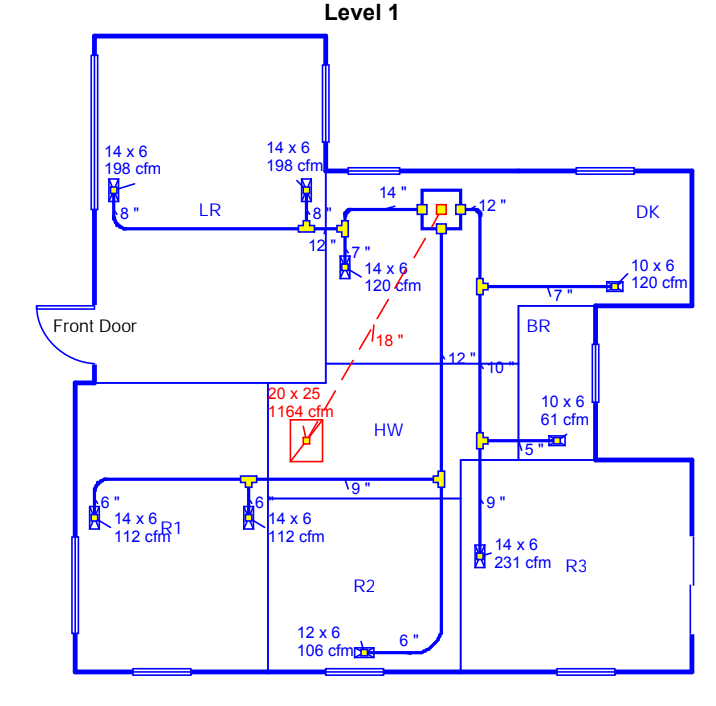 Looking for a duct design (Manual D) service that can help you with your home HVAC system? Look no further than HVAC Trade. We specialize in Manual D and can help you get the most out of your HVAC system. We can provide you with a duct design that meets your specific needs and requirements, and we can also help you with a heat load calculation (Manual J) to ensure that your duct system is properly sized.
Why you need a duct design:
A duct system that is not properly designed can lead to a number of problems, including reduced air flow, increased energy costs, and decreased comfort levels. Heat load calculation ensures a properly sized and designed to meet your specific needs.
The benefits of working with HVAC Trade:
– Years of experience in duct design and can create a duct system that meets your specific needs.
– ACCA Approved software and technology (Wrightsoft) to create our duct designs, you can be confident that you're getting the most accurate and up-to-date information possible.
– Fee consultation so we can learn more about your specific needs and requirements.
What is the procedure for Manual J & Manual D?
Provide details about your home or building, including the size and layout of the space as well as any existing ductwork or HVAC equipment that may already be in place. You may also need to provide information about your duct materials, insulation levels, and local climate conditions. Once we have this information, our team of duct designers can analyze it using specialized software and create a ductwork layout that meets your specific needs. Then work with you to implement this duct layout and ensure that it is properly installed and functioning properly. So if you're looking for expert duct design services, look no further than HVAC Trade.
Contact us for to get the right airflow for your home:
We would be happy to discuss your specific needs and requirements and provide you with a free consultation.